Source: Ebook from Netgalley and Redhook in exchange for an honest review. This in no way alters my opinion or review.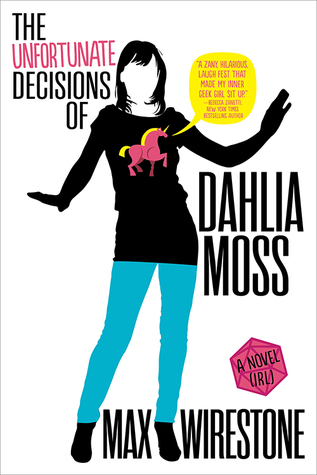 The Unfortunate Decisions of Dahlia Moss by Max Wirestone
Publisher: RedHook
Publication Date: October 20, 2015
Format: Ebook
Rating:
Goodreads Synopsis:
For fans of The Guild, New Girl, Scott Pilgrim, Big Bang Theory, Veronica Mars, or anyone who has ever geeked out about something.

The odds of Dahlia successfully navigating adulthood are 3,720 to 1. But never tell her the odds.

Meet Dahlia Moss, the reigning queen of unfortunate decision-making in the St. Louis area. Unemployed broke, and on her last bowl of ramen, she's not living her best life. But that's all about to change.

Before Dahlia can make her life any messier on her own she's offered a job. A job that she's woefully under-qualified for. A job that will lead her to a murder, an MMORPG, and possibly a fella (or two?).

Turns out unfortunate decisions abound, and she's just the girl to deal with them.
Review:
I really loved this book; it was everything I thought it would be and more. So as the synopsis states this is a book for geeky fans and I would also say that it is for those who enjoy a good mystery as well. Dahlia Moss has had it rough, she has no boyfriend, and no job, and is living at a friend's place while trying to find something to straighten out her life... along comes a guy who offers her crazy money to find a digital weapon in an online game - so what the heck does she have to lose? She begins her investigation only to realize that the guy that hired her turns up dead. Now she is freaking out a bit and finds herself in the middle of a real investigation, but she has been offered even more money to still find the online weaponry.
Most likely you are reading this review from my blog or a book-site – which means you probably already know how nerdy I am. This book was SO up my alley. I heart it with all the feels. Dahlia was adorable and funny and quirky and nerdy but a strong female who has had to earn her place in the geekdom. I appreciate that. I love MMORPGs and RPGs for that matter, I love books and board games and LOOTCRATE and comics…. This book had so many references to so many things that I enjoy but also was a great story. The mystery was fun to follow – I didn't even guess how it all would work out in the end (I love a secretive mystery).

I found this book to be just what I needed to pull me back into reading again. I read it in about 2 sittings, the first half was a little slow going but the 2nd half was a whirlwind of fun. I recommend it.