Source: From Aurora Publicity in exchange for an honest review. This in no way alters my opinion or review.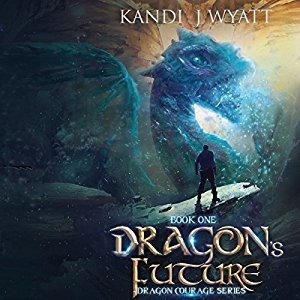 Dragon's Future by Kandi Wyatt
Series: Dragon Courage Volume 1
Publisher: Booktrope/Updrift, Audible Audio
Publication Date: February 22, 2017
Format: Audiobook

Rating:
Goodreads Synopsis:
Every child of Woolpren dreams of becoming one, but only a few are chosen. Now, ten-year-old twin brother and sister, Ruskya and Duskya, have been selected to join an elite group of riders: dragon riders. Full of awe and excitement, the twins leave their mother, and their home, to train for their new lives.

Fifteen years later, dragons are becoming extinct and riders are rare. One day, Ruskya is at the general store in town when a man announces that he is recruiting new dragon riders. Ruskya goes undercover, and discovers that there is another colony of riders with their own agenda—a quest to find a mysterious plant that could restore the dragon population, or destroy it. When a battle erupts between the two colonies, it's up to Ruskya and his friends to fight for their dragons' future, and their lives.

Follow Ruskya's quest as he finds courage and friendship in this exciting middle grade fantasy series by new author Kandi J Wyatt.
Review:
I was very interested in this fantasy when I first read the synopsis. Dragons and riders and mystery, it was all so intriguing. I received the audiobook from a publicity agent and got into it pretty quickly. I found myself putting off listening to it and it took me a month to get through it, but it wasn't the story that was putting me off, it was the narrator of the audiobook.
The story is about a pair of twins that are chosen to be dragon riders, an elite group taken from their small village every so often. They are chosen by these dragons to ride them and they set off almost immediately into their new lives.
Later in the story we learn that there is another group of riders and they are looking for a way to find a mysterious herb that is said to help with new dragons and furthering the line. There is a lot of action in all this plot, but there are also a lot of characters - the twins, their dragons, their trainer and his dragon, their mother, the other townspeople and dragon riders and it made it hard to keep track of everyone. I think if I had read the book it would have been ok, but the narrator had the same voices for many of the characters and it was very difficult for me to keep track, on top of that the names were all very similar as well. That was my biggest issues though.
The battle scenes were very good and the characters all grew to some extent. I liked the communication between the riders and their dragons and the mystery that unraveled through the story which made for good pacing. I loved the dragons! Overall it was a good tale and I enjoyed it, but it wasn't the best audiobook I have listened to in terms of the narration. I would have liked more depth in that.