Source: From Librarything Early Reviewers Program and Tundra Books in exchange for an honest review. This in no way alters my opinion or review.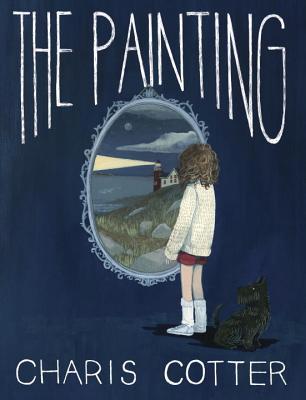 The Painting by Charis Cotter
Publisher: Tundra Books
Publication Date: September 19, 2017
Format: Hardback

Rating:
Goodreads Synopsis:
A haunting, beautiful middle-grade novel about fractured relationships, loss, ghosts, friendship and art.
Annie and her mother don't see eye to eye. When Annie finds a painting of a lonely lighthouse in their home, she is immediately drawn to it--and her mother wishes it would stay banished in the attic. To her, art has no interest, but Annie loves drawing and painting.
When Annie's mother slips into a coma following a car accident, strange things begin to happen to Annie. She finds herself falling into the painting and meeting Claire, a girl her own age living at the lighthouse. Claire's mother Maisie is the artist behind the painting, and like Annie, Claire's relationship with her mother is fraught. Annie thinks she can help them find their way back to each other, and in so doing, help mend her relationship with her own mother.
But who IS Claire? Why can Annie travel through the painting? And can Annie help her mother wake up from her coma?
The Painting is a touching, evocative story with a hint of mystery and suspense to keep readers hooked.
Review:
This was a very strange book - dark and mysterious but also deliberate and deep. The story follows the point of views of two girls, Annie and Claire, who meet each other through a painting. Annie's mother was just in a car accident and so she is going through some things, and Claire lives by a lighthouse and recently lost her little sister. They come together to help each other through some traumatic times. That is the simplest way to put it all - the paintings are the threshold which Annie uses to see Claire, and Claire believes that Annie is the ghost of her deceased sister - so there are a lot more layers to this plot.
Annie is artistic but also wants to help, while Claire is more shy and has a tendency to dwell. The book alternated points of view pretty quickly as they visited one another or were alone, and the time the read spends with each girl is only 2-3 pages but there is a lot of depth of character in each section. I am honestly not really sure whether to characterize this as a MG or a YA book but it felt more on the MG side as far as the ages of the girls, but more YA in the overall concept, so for a more advanced MG reader this would be a great book. The story has time travel and is a bit of a ghost story as well, it is mysterious about the traveling and the paintings but it is deep in the wounds and healing side that both these girls are having to handle. It was a very good read.