Source: From Netgalley and Andrews McMeel Publishing in exchange for an honest review. This in no way alters my opinion or review.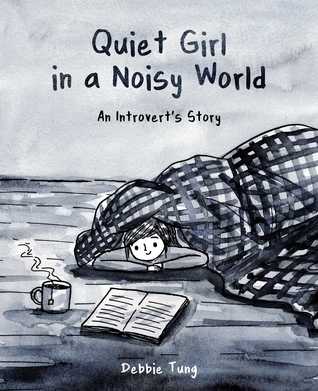 Quiet Girl in a Noisy World: An Introvert's Story by Debbie Tung
Publisher: Andrews McMeel Publishing
Publication Date: November 30, 2017
Format: Ebook

Rating:
Goodreads Synopsis:
Sweet, funny, and quietly poignant, Debbie Tung's comics reveal the ups and downs of coming of age as an introvert.

This illustrated gift book of short comics illuminates author Debbie Tung's experience as an introvert in an extrovert's world. Presented in a loose narrative style that can be read front to back or dipped into at one's leisure, the book spans three years of Debbie's life, from the end of college to the present day. In these early years of adulthood, Debbie slowly but finally discovers there is a name for her lifelong need to be alone: she's an introvert.

The first half of the book traces Debbie's final year in college: socializing with peers, dating, falling in love (with an extrovert!), moving in, getting married, meeting new people, and simply trying to fit in. The second half looks at her life after graduation: finding a job, learning to live with her new husband, trying to understand social obligations when it comes to the in-laws, and navigating office life. Ultimately, Quiet Girl sends a positive, pro-introvert message: our heroine learns to embrace her introversion and finds ways to thrive in the world while fulfilling her need for quiet.
Review:
As a fellow INFJ, I absolutely fell in love with everything this book had to offer. It was a spectacular portrayal of exactly what it is like to live as an introvert and I really appreciated it. I found the book while playing in Netgalley and am SO HAPPY that I did.
Debbie does a wonderful job explaining herself through these comics in a way that is understandable and very relatable even if you are no introverted, but it resonates even more because I am. The comics the book contains are short ones so it is easy to start and stop where ever you are or read it all in one glorious sitting like I did. We follow Debbie through the years and into becoming an adult, I call it being a 'real adult' sometimes because even though I am in my 30s I still don't think of myself as an adult. Much like the author and these comics, I love a day in, with a blanket fort and tea or cocoa and a good book or binging a show. I love doing nothing and being alone, but sometimes feel obligated to do adult things like go out and socialize.
I loved everything about this comic compilation and appreciate this author for putting it all out there, as an introvert - I know how very hard that can be, but it really is appreciated and I loved it all.