Source: From the Publisher in exchange for an honest review. This in no way alters my opinion or review.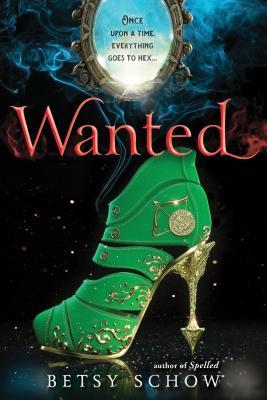 Wanted by Betsy Schow
Series: Spelled #2
Publisher: Sourcebooks Fire
Publication Date: February 7, 2017
Format: Paperback ARC
Rating:
Goodreads Synopsis:
In the sequel to Spelled, can Robin Hood's daughter, Rexi, stop the Wicked Witch from finding Excalibur?

Fairy-Tale Survival Rule No. 52:
No matter how difficult the obstacles or all-powerful the evil villain, one can rest assured that the hero of the story never dies. The sidekicks though...they should be worried.
Rexi Hood is proud to be an outlaw. After all, she's the daughter of the infamous Robin Hood. But sidekick? Accomplice? Sorry, that wasn't in her story description. Yeah, she and Princess Dorthea of Emerald have been inseparable since they teamed up to fight the wickedest witch. But if Rexi doesn't figure out how to break the curse that binds them, forget being overshadowed by the spirited princess, Rexi's going to become a Forgotten, wiped from the pages of Story and reduced to a puddle of ink.
Not happening. No way in Spell.
Rexi's plan? Steal the sword Excalibur and use its magic to write her own tale. But Gwenevere has opened a new Academy of Villains in Camelot and danger lurks behind every plot twist. And you know how it goes in Story: keep your friends close and your enemies closer...
Review:
The covers to this series are WONDERFUL. I want all these shoes IRL! - sorry had to get that out there!
I really enjoy fairy tale retellings and this series so far has been a crazy ride through SO many of them. In this book we have Wizard of Oz, Fairy Tales like Red Riding and Robin Hood, Camelot, and hints of many others as well. At times it was a bit confusing to follow but I really liked the story.
In this installment we are following Rexi (Robin Hood's Daughter) as she tries to detach herself from Dorthea - you will have to read Spelled for more on that. In this book Rexi is trying to make sure her story doesn't get unwritten, which in Fairy tale land means that you cease to exist and Death takes you. Rexi is kind of the anti-hero or sorts, she is a thief but also trying to make a name for herself in any way that she can and she keeps dying from it thanks to what Dorthea has done.
There are a lot of characters and a good amount or world building so be prepared to get a lot of information in a short amount of time, but it is worth it. Schow's books are creative and woven in very intricate ways. If you are a fan of fairy tales and new characters in them, this is a great book, but I do advise reading Spelled first to grasp what is happening in this tale (even though it is from another point of view).