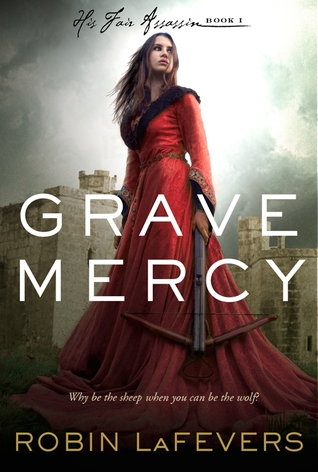 Grave Mercy by Robin LaFevers
Series: His Fair Assassin #1
Publisher: HMH Books for Young Readers
Publication Date: April 3, 2012
Format: Audiobook
Source: Own/Bought on Audible
Rating:
Goodreads Synopsis:
Why be the sheep, when you can be the wolf?

Seventeen-year-old Ismae escapes from the brutality of an arranged marriage into the sanctuary of the convent of St. Mortain, where the sisters still serve the gods of old. Here she learns that the god of Death Himself has blessed her with dangerous gifts—and a violent destiny. If she chooses to stay at the convent, she will be trained as an assassin and serve as a handmaiden to Death. To claim her new life, she must destroy the lives of others.

Ismae's most important assignment takes her straight into the high court of Brittany—where she finds herself woefully under prepared—not only for the deadly games of intrigue and treason, but for the impossible choices she must make. For how can she deliver Death's vengeance upon a target who, against her will, has stolen her heart?
Review:
So many politics in this book, wow! I have been meaning to read this book for SO long. I have even checked it out from the library about 3 times with all intention of reading it. Finally I decided reading it wasn't going to happen - that was, until I found it for sale on Audible :)
I downloaded the audiobook and I loved listening to it. It takes a little while to get into, but the overall story has a lot of depth and the world building is wonderful.
The audiobook much like the book, is pretty long, at about 14 hours, so it takes a while to listen to it all, but with dishes to go and lawns to mow, I was able to do other things while listening.
This book follows Ismae as she is taken in by the convent of St. Mortain, trained in the arts of death, and then sent off onto a mission to serve the Duchess. There is violence, conspiracy, espionage, death, and many twists. Ismae is innocent yet determined to serve her god and she is an interesting character to follow on this journey.
Ismae is tasked with reporting to the convent and providing death dealing as needed while watching and working with Duval. Their forced companionship slowly buds into romance and maybe more as the story processes. It is slow and that is a refreshing thing in a YA read where insta-love happens a bit too much. Overall the plot is long-winded, with a lot of tedious political intricacies but it is all admirable world-building.
I liked the main characters, I liked the plot - it wasn't too easy to see what was happening, I liked the slow moving romance, overall this was a great listen.