Source: From Netgalley and Charmz in exchange for an honest review. This in no way alters my opinion or review.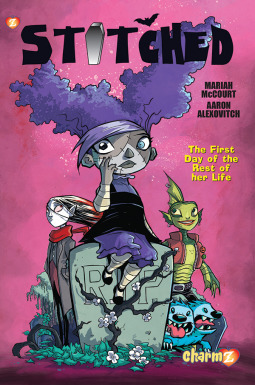 Stitched by Mariah McCourt
Series: Stitched #1
Publisher: Charmz
Publication Date: May 2, 2017
Format: Ebook

Rating:
Goodreads Synopsis:
Crimson Volania Mulch has a problem; she just woke up in a crypt and, besides her name, has no idea of who, where, or what she is. Welcome to the Cemetery of Assumptions, a vast landscape of stones, mausoleums, and secrets. Home to monsters and mayhem, it may also hold the answers to her unknown parentage.

Crimson is a resourceful patchwork girl and determined to find them. Along the way, she meets the mysterious Wisteria, who has a tendency to change and a witch named Parameter whose spells tend to go awry. And two boys, Simon and Quinton, who make her feel something besides lost and confused. She must battle ghosts, zombies, and monsters in order to learn where she came from and who her real "mother" is. But will she do it alone, or will she have help from her new friends and unexpected crushes?
Review:
Stitched is about a girl who wakes up and doesn't know anything about herself. She is in a crypt and can hear someone kind of talking to her but still isn't sure what is happening. Upon awakening she encounters some pretty spooky things but makes a few friends along the way that are going to try to help her figure some things out.
This graphic novel has wonderfully vibrant art and the characters are creative variations of horror movie monsters - zombies, werewolves, sea monsters, vampires, witches but they are done playfully. The rag-tag group works together throughout the book, not without some issues, but does a good job helping one another.
The best part of this book is the monster dog/pet - because he really is a badger thing of sorts, named Crust. I found him adorable and want one.
This was a fun new graphic novel, I am glad that I got the chance to read it.