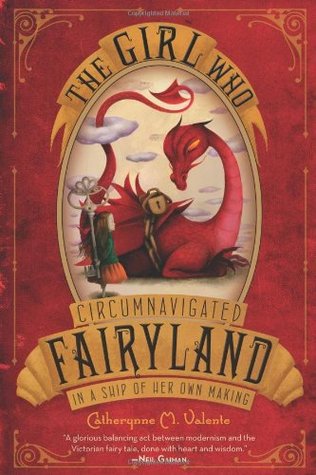 The Girl who Circumnavigated Fairyland in a Ship of Her Own Making
by Catherynne Valente
Series: Fairyland #1
Publisher: Feiwel & Friends
Publication Date: May 10, 2011
Format: Paperback
Source: Library
Rating:
Goodreads Synopsis:
Twelve-year-old September lives in Omaha, and used to have an ordinary life, until her father went to war and her mother went to work. One day, September is met at her kitchen window by a Green Wind (taking the form of a gentleman in a green jacket), who invites her on an adventure, implying that her help is needed in Fairyland. The new Marquess is unpredictable and fickle, and also not much older than September. Only September can retrieve a talisman the Marquess wants from the enchanted woods, and if she doesn't . . . then the Marquess will make life impossible for the inhabitants of Fairyland. September is already making new friends, including a book-loving Wyvern and a mysterious boy named Saturday.
Review:
I was so excited when I picked up this book from the library - I have read wonderful reviews about it and the cover and premise are spectacular. I am sad to say that this was not my favorite book - I did enjoy it but found a lot of the plot bogged down by too much detail and fancy wording.
September is a special girl, one that has the chance to be whisked off into fairyland and have the adventure of her lifetime. She gets to meet a dragon, make friends with creatures that only exist in fairy tales, defeat an evil Marquess. This book had the makings of a wonderfully epic fantasy. I enjoyed September as a main character but with all that detail there wasn't much to really draw me in to make me really root for her - I found myself with her rooting against this crazy rule-making Marquess instead. The adventures were reminiscent of Alice in Wonderland, The Lion, The Witch and the Wardrobe, and Halloweentown from the Nightmare Before Christmas all rolled into on - so they felt like stories I had heard before.
One last point, I really kept feeling like this was written for adults and not a middle grade reader, there were a few passages that just seemed for parents or adults, and even I felt like I had to dig my way through the book to get to the good parts.
That being said, there was a wonderful twist in the last few chapters and a great cliffhanger ending. While I don't think I will continue the series, the ending did make me stop and think I wanted to for a moment.