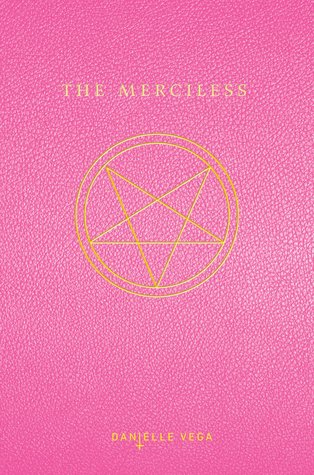 The Merciless by Danielle Vega
Publisher: Penguin
Publication Date: June 12, 2014
Format: ebook
Source:Penguin First Reads program in exchange for an honest review. This in no way effects my thoughts or options of the book.
Rating:
Goodreads Synopsis:
Forgive us, Father, for we have sinned

Brooklyn Stevens sits in a pool of her own blood, tied up and gagged. No one outside of these dank basement walls knows she's here. No one can hear her scream.

Sofia Flores knows she shouldn't have gotten involved. When she befriended Riley, Grace, and Alexis on her first day at school, she admired them, with their perfect hair and their good-girl ways. They said they wanted to save Brooklyn. They wanted to help her. Sofia didn't realize they believed Brooklyn was possessed.

Now, Riley and the girls are performing an exorcism on Brooklyn—but their idea of an exorcism is closer to torture than salvation. All Sofia wants is to get out of this house. But there is no way out. Sofia can't go against the other girls . . . unless she wants to be next. . . .

In this chilling debut, Danielle Vega delivers blood-curdling suspense and terror on every page. By the shockingly twisted end, readers will be faced with the most haunting question of all: Is there evil in all of us?
Review:
Whatever you read about this book could not possibly prepare you for the violence and creepiness of this book- and I mean that in the best way possible. The Merciless follows the new girl in town, Sofia, who befriends a few girls on her first day of school. In this group is Brooklyn, the loner, and then Riley and her posse of Alexis and Grace, your teen Bible study/popular girls group.
Sofia is shy and trying to fit in, while all the other girls are trying her out as a new friend. Sofia gets wrapped up in a spy-like operation for Riley and then all hell breaks loose (no pun intended). When Riley decides that Brooklyn is evil and needs an exorcism, the book becomes a madhouse of fire, knives, stabbing, drowning and an overall terrifying experience for Sofia.
I am not even sure where to start on this one, so how about the most obvious – the cover. The pretty pink cover with an upside down pentagram is a marvelous expression of what is to come inside the book. A mix of religion, good and evil, and pop-princesses gone bad; it was the creepy I wanted out of this book. Danielle Vega did a wonderful job pulling the reader in with this plot, Sofia seems like a normal shy girl and you are really pulling for her to make friends and enjoy her new home. Little by little things seem off in the story and then BOOM!!!!! All the creepy.
Vega's descriptions were the best and worst part of this read, at one point she is explaining the sound of ripping ones nails off with a knife (gross right?! You have NO idea HOW gross?), this gave me shivers and I had to put the book down for a moment while I tried not to get sick. BUT that being said… this was an amazing book! There is a crazy twist ending that I was NOT expecting even after being forewarned by the synopsis. If you are a fan of violence, horror, and the heebie-jeebies … you should read this.