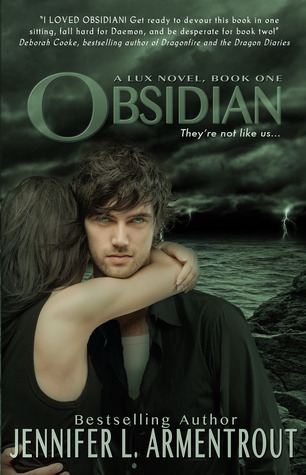 Obsidian by Jennifer Armentrout
Series: Lux #1
Publisher: Entangled Teen
Publication Date: May 8, 2012
Format: Ebook
Source: Bought/ Own
Rating:
Goodreads Synopsis:
Starting over sucks.

When we moved to West Virginia right before my senior year, I'd pretty much resigned myself to thick accents, dodgy internet access, and a whole lot of boring… until I spotted my hot neighbor, with his looming height and eerie green eyes. Things were looking up.

And then he opened his mouth.

Daemon is infuriating. Arrogant. Stab-worthy. We do not get along. At all. But when a stranger attacks me and Daemon literally freezes time with a wave of his hand, well, something… unexpected happens.

The hot alien living next door marks me.

You heard me. Alien. Turns out Daemon and his sister have a galaxy of enemies wanting to steal their abilities, and Daemon's touch has me lit up like the Vegas Strip. The only way I'm getting out of this alive is by sticking close to Daemon until my alien mojo fades.

If I don't kill him first, that is.
Review:
I have had this book both as an Ebook on my Kindle and the bound copy of the first 2 books on my bookshelf that I picked up from the bargain section at some point... I have been meaning to read it and when I was laying in bed unable to sleep I started it on my Kindle. I can't believe I waited to read this one. I know there was hype and I was nervous about that, but I even stayed away from any spoilers, I don't even think I read the synopsis. The book did not disappoint.
That being said this book is such a stereotype of the Young Adult genre - there is the unearthly beautiful boy, who is a jerk; there is the beautiful but doesn't realize it girl (luckily here she is also a book-blogger - scoring bonus points in my book); and there is the paranormal elements and the romantic story. BUT with all those stereotypes it was still a great read. I am a sucker for the jerk/hot guy in YA books and their love/hate thing is intoxicating.
The story follows a girl in a new town with mysterious neighbors, they have a secret and she is getting weird vibes from the whole town. She is introduced and then weirder things start to happen. The rest of the book is about Daemon pushing away while his sister, Dee, wants to be her best friend.
I really enjoyed this book and flew through it in a few sittings, I already have the 2nd book on my shelf so that one will be picked up very soon... but I kind of want to spread them out a bit.