Source: From Blogging for Books in exchange for an honest review. This in no way alters my opinion or review.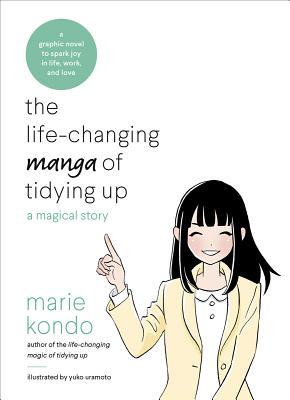 The Life-Changing Manga of Tidying Up by Marie Kondo
Publisher: Ten Speed Press
Publication Date: June 27, 2017
Format: Paperback
Rating:
Goodreads Synopsis:
From the #1 New York Times best-selling author and lifestyle/cleaning guru Marie Kondo, this graphic novelization brings Kondo's life-changing tidying method to life with the fun, quirky story of a woman who transforms her home, work, and love life using Kondo's advice and inspiration.

Marie Kondo presents the fictional story of Chiaki, a young woman in Tokyo who struggles with a cluttered apartment, messy love life, and lack of direction. After receiving a complaint from her attractive next-door neighbor about the sad state of her balcony, Chiaki gets Kondo to take her on as a client. Through a series of entertaining and insightful lessons, Kondo helps Chiaki get her home--and life--in order. This insightful, illustrated case study is perfect for people looking for a fun introduction to the KonMari Method of tidying up, as well as tried-and-true fans of Marie Kondo eager for a new way to think about what sparks joy. Featuring illustrations by award-winning manga artist Yuko Uramoto, this book also makes a great read for manga and graphic novel lovers of all ages.

Review:
I tried to read The Life-Changing Magic of Tidying Up when it came out. I borrowed it from the library, but by the time I was able to pick it up it was due back for a hold for the next person, so I only ever got through the clothing section. I saw this version online and thought 'oh what a fun way to present this technique' and I was right. In this version the technique is addressed through a story about Chiaki, a young woman that had too much clutter in her life. Marie Kondo comes in and gives her tips on how to tidy and as they progress the reader learns about tidying up and the various sections of the technique overall.
I found the Graphic Novel adaptation to be easy to read, it still has all the information you need and pictures are a wonderful teaching tool. I think that this version makes it easy for people to read and see what they need to do and it might even be more relatable for a younger audience and can be used for dorm packing and then moving into new apartments afterward.
I really enjoyed reading this in this way and I will be sharing the techniques with others as well as trying to implement some - I could definitely use a clothing overhaul but the tidying of books isn't gonna happen at least not yet. I think this concept is great and now that I have learned it I can decide when the right time is to really use it.