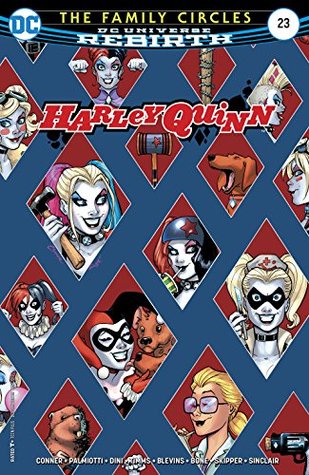 The Family Circles Part II: Manners and Other Matters by Amanda Conner and Jimmy Palmiotti
Series: Rebirth Harley Quinn #23
Publisher: DC Comics
Publication Date: July 5, 2017
Format: Comic
Source: Bought/ Own
Rating:
Goodreads Synopsis:
"RED ROSES" part three! The tension between Harley, Poison Ivy and Red Tool hits the boiling point! Who's gonna stay—and who's gonna go? And in the backup story, "Harley Loves Joker" part seven, Batman is back on the deranged duo's trail!
Mini Review:
Harley is not dealing with other peoples issues in this installment - she is going to have a nice dinner with her parents (dangit!). She deals with Harley Sinn for the time being and goes out to enjoy a nice fancy dinner with the rents. Nothing ever goes as planned though so she might have to beat someone while there. Seeing her interact with her parents is very funny.
Another fun thing in this issue is that the Red Tool and Poison Ivy are teaming up on some mysterious project that may involve Harley ... waiting to see though...
Really enjoying this series again.