Source: From Sourcebooks in exchange for an honest review. This in no way alters my opinion or review.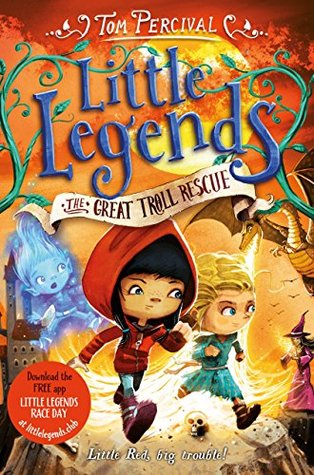 The Great Troll Escape by Tom Percival
Series: Little Legends #2
Publisher: Sourcebooks Jabberwocky
Publication Date: March 7, 2017
Format: Paperback ARC
Rating:
Goodreads Synopsis:
Meet Jack and his talking chicken Betsy, Red, Rapunzel, Hansel and Gretel, and a host of other Little Legends as they have fantastic new adventures!Get to know your favorite fairytale characters like never before in this magical new book series.

What starts as an adventure ends in disaster when Jack and all his friends are captured by a wicked witch with a devious plan.

It's up to Red, the woodcutter's daughter, to save the day. Along the way Red befriends the wicked witch's servants, Ella and her Fairy Godbrother Cole. Can they rescue Red's friends and all the other magical creatures the witch has kidnapped including a fearsome troll?
Review:
After reading the first book in this series, I was very happy to have the second one on hand. In the first book we followed Jack as the main character and in this one we follow Red as she has to rescue her friends from an evil witch. The story picks up where the first one left off, the kids are still trying to help Anansi figure out how to help his family, but his mom is on her way to him and she gets captured by the evil witch.
We learn more about Red's character and her friends as the story progresses and the friendships that form and build. There is a lot of teamwork and learning in these fun, adventurous books and I think young readers will really enjoy this series. And as an added bonus the illustrations are so much fun too!