Source: From Blogging for Books and Crown in

exchange

for an honest re

view. This in no way alters my opinion or review.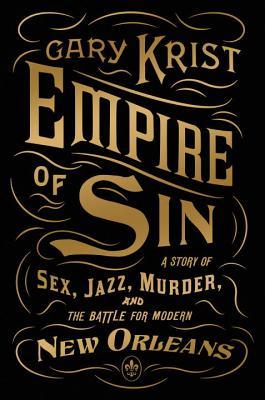 Empire of Sin: A Story of Sex, Jazz,

Murder and the Battle for Modern
New

Orleans
Publisher: Crown
Publication Date: October 28, 2014
Format: Hardback

Goodreads Synopsis:
From bestselling author Gary Krist, a vibrant and immersive account of New Orleans' other civil war, at a time when commercialized vice, jazz culture, and endemic crime defined the battlegrounds of the Crescent City

Empire of Sin re-creates the remarkable story of New Orleans' thirty-years war against itself, pitting the city's elite "better half" against its powerful and long-entrenched underworld of vice, perversity, and crime. This early-20th-century battle centers on one man: Tom Anderson, the undisputed czar of the city's Storyville vice district, who fights desperately to keep his empire intact as it faces onslaughts from all sides. Surrounding him are the stories of flamboyant prostitutes, crusading moral reformers, dissolute jazzmen, ruthless Mafiosi, venal politicians, and one extremely violent serial killer, all battling for primacy in a wild and wicked city unlike any other in the world.

Review:
So this book has been stilling in my Currently Reading pile for a long time and I finally think it is time for me to review/ explain this. As you may know I am a Young Adult and Middle Grade blogger and reader and so Nonfiction is not normally my 'jam'. I picked this book out from Blogging for Books in hopes that the history would be able to pull me in and really push me through the book. Sadly this did not happen, i am just st

uck in my ways.
Empire of Sin is a histor

ical account of

New Orleans and how it came to be and tells the history like a story. Reference is used throughout, like newspaper quotes and journal entries etc, but the information is put to the reader as if a tale. It follows various people of the time and place and how they interacted with New Orleans and other community members and portrayed all of this in a very

interesting way.
So why couldn't I finish this, even though I liked it? Well the pages were so dense with text that I would start reading and get very

discouraged

about my progress or lack-there-of. I was interested in the content but I often read before bed/in bed and the historical aspects and the wall of text would end up putting me to sleep. I was very disappointed with myself that I could not keep up with this book. so for now I am adding it to the DNF but do give it 3 starts because I was liking it even though I could not finish it (at this time - I may

pick it up again at some point).