Source: Librarything Early Reviews Program and William Morrow in

exchange

for an honest review. This in no way alters my opinion or review

.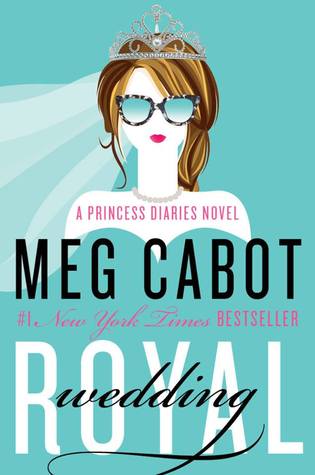 Royal Wedding by Meg Cabot
Series: The Princess Diaries #11
Publisher: W

illiam Morrow Paperbacks


Publication Date: June 2, 2015
Format: Paperback ARC
Rating:
Goodreads Synopsis:
From the #1 New York Times bestselling author of the Princess Diaries series comes the very first adult installment, which follows Princess Mia and her prince charming as they plan their fairy tale wedding - though a few poisoned apples could turn this happily-ever-after into a royal nightmare

For Princess Mia, the past five years since college graduation have been a whirlwind of activity: living in New York City, running her new teen community center, being madly in love, and attending royal engagements. And speaking of engagements. Mia's gorgeous longtime boyfriend, Michael, managed to clear both their schedules just long enough for an exotic (and very private) Caribbean island interlude where he popped the question! Of course Mia didn't need to consult her diary to know that her answer was a royal oui.

But now Mia has a scandal of majestic proportions to contend with: Her grandmother has leaked "fake" wedding plans to the press that could cause even normally calm Michael to become a runaway groom. Worse, a scheming politico is trying to force Mia's father from the throne, all because of a royal secret that could leave Genovia without a monarch. Can Mia prove to everyone - especially herself - that she's not only ready to wed, but ready to rule as well?
Review:
If you follow my blog you may have noticed that I have been reading The Princess Diaries series and if I am completely honest with you, this book is the reason. Now I probably could have read this book as a stand-alone but I have always wanted the excuse to read

the whole series

and so now I have and it was a good idea. I love this series so much - I am a little sad I didn't read it when I was younger. Mia becomes such a strong femal

e throughout and her growth is beautiful.
In this newer more adult installment, Mia finds herself out of college and needing to journal again due to stress. I think this was a very cle

ver

way to pick up the story again - more journaling makes for more books! Woo! She is still up to her 'go for it' approach to the world and making her own way even though she is a princess and I loved ever bit of this book. There were so many twists and turns

throughout

- I was laughing, smiling, even crying with happiness for her as I read - because it is a diary you feel so close to the character

.
My only issue is that the book is called the Royal Wedding and yes much of it revolves around her about to have a wedding but you don't read anything about the wedding itself. It is most

ly an engagement

. I REALLY hope there are more to come.