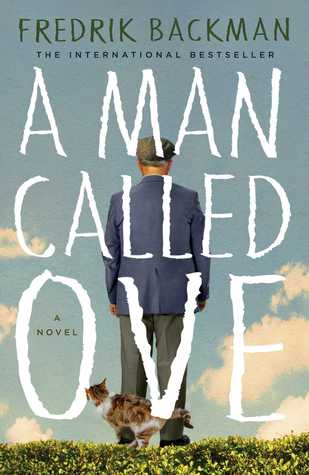 A Man Called Ove by Fred

rik Backman
Publisher: Atria Books
Publication Date: July 1

5

, 201

4
Format: Audio

book


Source: Bought on Audible.
Rating:
Goodreads Synopsis:
A grumpy yet loveable man finds his solitary world turned on its head when a boisterous young family moves in next door.

Meet Ove. He's a curmudgeon, the kind of man who points at people he dislikes as if they were burglars caught outside his bedroom window. He has staunch principles, strict routines, and a short fuse. People call him the bitter neighbor from hell, but must Ove be bitter just because he doesn't walk around with a smile plastered to his face all the time?

Behind the cranky exterior there is a story and a sadness. So when one November morning a chatty young couple with two chatty young daughters move in next door and accidentally flatten Ove's mailbox, it is the lead-in to a comical and heartwarming tale of unkempt cats, unexpected friendship, and the ancient art of backing up a U-Haul. All of which will change one cranky old man and a local residents' association to their very foundations.
Review:
I am so happy this this was my work book club pick last month, otherwise I probably wouldn't have read it and I even took for

ever to pick it up. I have been in a very cranky mood lately and reading about Ove and his life and grumpy self was just the thing that I needed.
Ove is an old man who has lost a lot of things in his life and being almost at the end of his own, he is just trying to get away from the people around him - and that is mostly neighbors. They are always bothering him, asking him for stuff, advice, help or running over his mailbox and flowerbed or driving where they aren't supposed to. Ove is a rule follower and get very upset when others don't listen to the signage. So he is sad and grumpy and somehow people around him st

ill like him.
Don't get me wrong, all of this sounds like it would make for a fun tale of a grumpy old man, but the

underlying

theme is one of depression and struggle with death. So while there were laughable bits, there was a lot of saddness for the reader too. I was drawn to this book because I was mad and sad and

I think that Ove helped me through that a bit, he is stubborn and mean but inside that he has a great heart.
I don't want to give a lot of the plot away, bec

au

se I was surprised and I really want readers to be too - Ove is a surprising man. The story is told from his point-of-view and also as flashbacks into this life before now. It was very well done and the falshbacks gave you insight into how he came to be this way. I listened to the audiobook and LOVED it the narrator was wonderful and I highly recommend this

book.