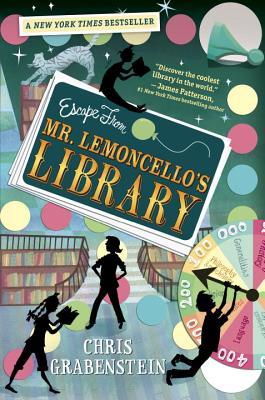 Escape from Mr. Lemoncello's Library by Chris Grabenstein
Publisher: Random House Books for Young Readers
Publication Date: June 2013
Format:Paperback
Source: Borrowed from a friend
Rating:
Goodreads Synopsis:
A New York Times Bestseller

Kyle Keeley is the class clown, popular with most kids, (if not the teachers), and an ardent fan of all games: board games, word games, and particularly video games. His hero, Luigi Lemoncello, the most notorious and creative gamemaker in the world, just so happens to be the genius behind the building of the new town library.

Lucky Kyle wins a coveted spot to be one of the first 12 kids in the library for an overnight of fun, food, and lots and lots of games. But when morning comes, the doors remain locked. Kyle and the other winners must solve every clue and every secret puzzle to find the hidden escape route. And the stakes are very high.

In this cross between Charlie and the Chocolate Factory and A Night in the Museum, Agatha Award winner Chris Grabenstein uses rib-tickling humor to create the perfect tale for his quirky characters. Old fans and new readers will become enthralled with the crafty twists and turns of this ultimate library experience.
Review:
I loved this book! I want to share it with the world!... Escape from Mr. Lemoncello's Library is like a combination of Willy Wanka, a puzzle book, and a library. It kind of make me think of the movie from the 90's called The Pagemaster, but instead of solving puzzles to get back to real life (out of an animated tale), these kids are figuring them out to get out of the library for a prize.
The book starts off telling the tale of Kyle, who is always competing with his brothers and when the chance arises to enter a school contest he originally thinks nothing of it. He then realizes that it is being held by his favorite game maker, the famous Mr. Lemoncello. Through the book there isn't much character building but Kyle realizes that the best way to play the game is with others versus being overly competitive - which is nice.
The puzzles were my favorite part, the book is full of them. There are even ones outside of the story. I found myself wanting a piece of paper nearby to complete the puzzles for myself versus reading the answers as the kids in the story figured them out. It think Middle Grade readers who enjoy word and picture puzzles will have a blast with this as well. I could even see this as a great book for the family to read and experience together.
I think older readers will enjoy this book as well as it sprinkles various nods to classic books and events throughout. I found myself laughing out loud, participating in the puzzles and trying to figure it all out for myself before the kids did. It was a lot of fun.