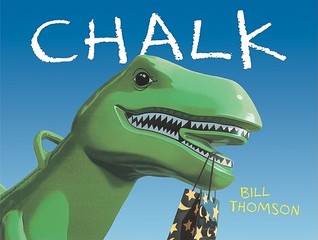 Chalk by Bill Thompson
Publisher:
Marshall Cavendish Children's Books
Publication Date: March 1, 2010
Format: Hardback
Source: From BEA 2013 Signing
Rating:
Goodreads Synopsis:
Three children discover a magical bag of chalk on a rainy day.
Review:
I have had this book on my shelf since BEA 2013, I met the amazing artist who put it together and had him even sign the book, but I had yet to read it. Well…it is a picture book so even better! So I finally sat down with this adorable book and found myself laughing out loud.
In the book three kids come across a bag of sidewalk chalk and realize that it is magic, whatever they draw comes to life. So the girls draw cute things like butterflies while the little boy decides on something bigger – much bigger.
The illustrations in the books make it absolutely wonderful, Bill Thompson is amazing. I love the idea that all it takes is some chalk and some creativity and so many marvelous things can happen.
A wonderful book for your not-yet readers and summer adventures.