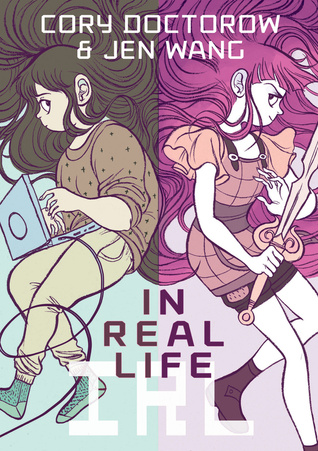 In Real Life by Cory Doctorow and Jen Wang
Publisher: First Second
Publication Date: October 14, 2014
Format: Paperback
Source: Borrowed from the Library
Rating:
Goodreads Synopsis:
Anda loves Coarsegold Online, the massively-multiplayer role-playing game where she spends most of her free time. It's a place where she can be a leader, a fighter, a hero. It's a place where she can meet people from all over the world, and make friends.

But things become a lot more complicated when Anda befriends a gold farmer--a poor Chinese kid whose avatar in the game illegally collects valuable objects and then sells them to players from developed countries with money to burn. This behavior is strictly against the rules in Coarsegold, but Anda soon comes to realize that questions of right and wrong are a lot less straightforward when a real person's real livelihood is at stake.

From acclaimed teen author (Little Brother, For the Win) and Boing Boing editor Cory Doctorow and Koko Be Good creator Jen Wang, In Real Life is a perceptive and high-stakes look at adolescence, gaming, poverty, and culture clash.

Review:
I have heard about this graphic novel for a while now and maybe the reason it keeps popping up for me is because I am a female gamer. If you have been around my reviews and blog a bit, you might have realized that I, on occasion, play some World of Warcraft (not well). I love it. It is another escape much like reading for me.
Anywho... this book is about a teen that gets invited to play an online game. Once she is in the thick of it, she is recruited for missions which involve her killing other players. On the one side, the book is about gaming, and some of it is even about gaming as a female - but not too much. A good amount of it is about how real life can be very different from 'in game' life. Anda wants to help but finds herself very removed because it is an online game.
I enjoyed this book because it was about gaming but I felt that it had a lot of messages that it tried to get into and some didn't really make it out alive. The real world versus in game thing came through, and the economic differences came through, but the feminist gamer didn't really and I think that the intro to this book explained it all out way too much. If you want a graphic novel to say something, have it say it though the graphic - they can stand alone if they are good enough.